Auto + HD Truck Parts
and

Accessories
We are a deeply-stocked auto and truck parts store located at the entrance to the Malad Industrial Park (999 S. Main / 100 Hess Drive) in Malad, Idaho. We can also get non-stocked parts from our nearby distribution center by the next morning.
WE MOVE A LOT of parts—supplying parts, fluids, and accessories to our Truck, Auto, and AG repair divisions next door, as well as the army of do-it-yourself shade-tree mechanics that live in the Malad Valley and surrounding area.
GET THE GOOD STUFF. As a NAPA (National Automotive Parts Association) parts center, we're part of one of America's premier auto and truck parts and accessories networks. That means you can drive and travel with confidence—the parts we stock are carefully selected for quality and are covered by the Nationwide NAPA Parts Warranty, honored by over 6100 NAPA parts stores across America. We also participate in NAPA's national sales and promotions—hey, who doesn't love to save a few bucks? You'll also want to participate in the NAPA Rewards program (see below).
Brand-Name Parts & Accessories. We stock not only proven and warrantied NAPA-branded parts, but also parts and accessories from trusted brands like Bosch, Lucas Oil, Mobil Oil, Royal Purple, FleetPride, Retrax Bed Covers*, Schaeffer Lubricants, and AMS Oil, to name a few.
*We are the Retrax Distributor for Northern Utah and all of Southern Idaho and Southeast Oregon.
Truck Parts & Accessories. We stock a lot of truck parts. We are a FleetPride satellite store, serving the Northern Utah, Southeastern Wyoming and Southeastern Idaho truck markets. We stock Midland truck parts, Bendix truck parts, HD Napa shocks, Napa HD filters as well as Baldwin and Donaldson filters. We stock truck friction (brakes) both new and re-manufactured, new and re-manufactured starters and alternators, and full line of truck and trailer air systems parts.
FARM Parts & Accessories. We are distributors of farm and industrial parts from SMA and A&I Products.
Also, if you're a member of the AITA (America's Independent Truckers Association), we also participate in that rewards program.
Here When You Need Us
Our store hours are are listed at left, but we know there are times when you absolutely must have a part after hours. No problem: Contact Dave at 208-221-9025 and he'll see what he can do to get you what you need.
We're Connected. We stock over 100,000 parts and auto accessories here in Malad, and can bring in non-stocked and/or special order parts by the next day from the regional NAPA distribution center in nearby SLC. We stock parts for not only cars and trucks, but heavy duty trucks and farm tractors and lawn and garden equipment and motorcycles and boats.
You might be thinking: That's a lot of SKUs for a parts house in a small town like Malad, Idaho. It is. We carry more parts than your typical NAPA parts store because we are the parts arm of the Hess Truck Auto Ag service and repair center (an Auto Care Center and a Diesel Equipment Repair and Service Shop).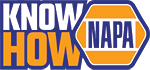 NAPA Know how RESOURCES. Please call us with your parts questions—208-766-7278—we know our stuff and we're glad to help! Also, as part of the nationwide NAPA family, we can hook you up with some great online tools:
Find A Part — Online Database Search (search or browse a catalog of over 400,000 parts) for the right part or automotive accessory for your particular vehicle. Reserve items online for pick-up in here in Malad. If we don't stock it, we'll get in here, typically by the next morning.
Ask an Expert — Need Answers Fast? Chat online live with an ASE Certified technician.
NAPA Know How App — Download the NAPA KNOW HOW App. The app is free to download and makes it easier than ever to get the know how you need—search and reserve parts for pick-up, enter your vehicle information using the VIN scanner function, chat live with a technician, access detailed how-to information and repair guides.
Auto Care How-To — Articles and Video Tips on simple repairs and preventative maintenance you can do yourself.
NAPA Rewards — Start saving by doing something you're already doing — shopping at NAPA! After you sign up for NAPA Rewards you'll get one point for every $1 you spend! When you accumulate 100 Points, you'll automatically receive $5 off your next NAPA purchase. It's that easy!